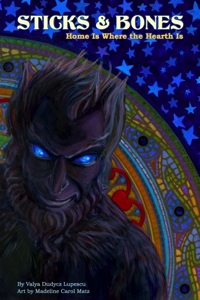 STICKS AND BONES: Home Is Where the Hearth Is (Issue 1)
Valya Dudycz Lupescu & Madeline Carol Matz
Home Is Where the Hearth
Is is the first chapter/issue in the graphic novel
STICKS & BONES
. Issue 1 tells the story of Yaroslav, a displaced house spirit in America looking for a new home. At its heart, this is a fairy tale about love and transformation, and the sacrifices we make to find our place in the world. The 24-page comic will be beautifully illustrated with fully painted pages by Madeline in a style that echoes the art of Czech Art Nouveau painter Alphonse Mucha.
Fully funded by kickstarter supporters, Sticks and Bones will debuted at Chicon 7!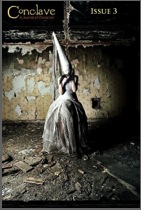 Conclave: A Journal of Character
Conclave: A Journal of Character
,
is preparing for its sixth issue under the guidance of new Managing Editor Savannah Thorne. The beautiful third issue featured exclusive interviews with Peter S. Beagle and Karen Essex, Jane Yolen's "Open Letter to John Galliano," and more, it looks like a wonderful issue! Information about the new issue is available online, and back issues are available for purchase on
Amazon.com
and at select bookstores.
Also now available on Audible! The Audiobook for The Silence of Trees by Valya Dudycz Lupescu
Iambik Audio
produced the audiobook for our fiction title,
The Silence of Trees
by
Valya Dudycz Lupescu
and narrated by the lovely and talented
Xe Sands
.
In preparation for her recording, Xe Sands (@xesands on Twitter) live tweeted her reading of The Silence of Trees with the hashtag: #SilenceofTrees. Here's a Storify compilation of her experience:
http://storify.com/valya/the-silence-of-trees
Purchase your copy today!